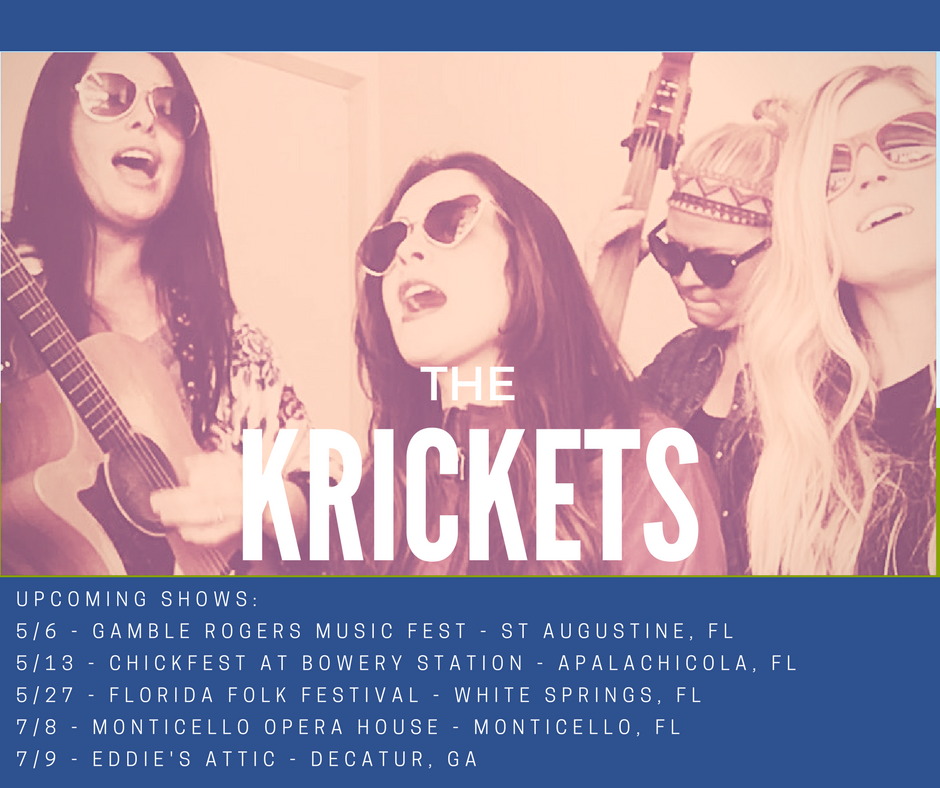 Answer: Too much treble.    (OUCH! ...and so true:)  
Terrible jokes aside, hello, lovely Kricket Folk!
Hopefully, we get to hug your neck at one of the above mentioned shows soon.  Life has been too fast to be any good at consistency with this blog, so thanks for your patience with us and we'll keep it brief, we swear!   A few "firsts" we have coming up are a little mini tour to Atlanta, our very first house concert, our first yearly donation to the Cricket Fund and Beyond and several festivals in towns we've never played.  We are so excited about them all and can't believe May 17th will mark a year since the album release.  An album that won us an IMEA Folk Artist of the Year award and IMA Folk Song of the Year.  Crazy!   Album #2 has been on our minds and it's so fun to dream on what it would sound like.   Right now, it's still very much a dream, but we'd love your prayers and positive thoughts sent our way as we figure it out. <3
Would y'all help us with something?  (pretty, please)
If you listen to Spotify, Pandora or Apple Music would you add your favorite Kricket tunes to a playlist you listen to?  It helps a lot and we appreciate it very much!  
In addition to the shows above, there is a rumor we might rejoin The Currys (great folk band) for a Christmas show in Tallahassee Dec 16th and maybe jet down to Gainesville, Fl to play the SandHill Listening Room Stage in Sept.  We'll keep you posted!:)    We hope you're all mentally prepared for Chickfest at Bowery Station this Saturday.  All our fellow female performers are so darn good, we could just sit and listen instead of play!  Don't miss it!
Finally, we have one more beautiful thing to celebrate ---  the wedding of our bandmate Melissa and her love, Sam, and their sweet little one on the way!   We are so happy for them and wish every blessing on their new family!!    
WE LOVE YOU GUYS!  
Your Krickets
Click on the pic for a video from the Gamble Rogers Music Fest last weekend!
  and please add us to those playlists!