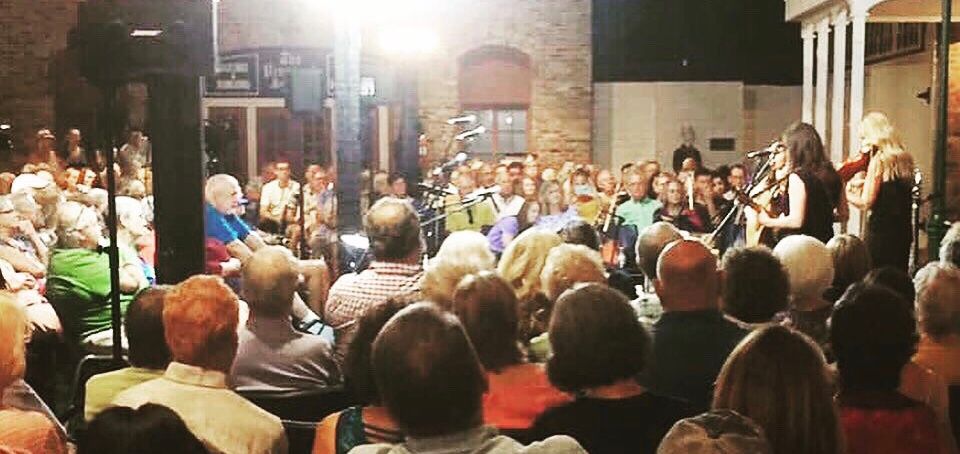 Hi guys!! 
We wanted to check in and let you all know what has been happening!  First, thanks to all who came out for WUWF's Radio Live last week.  What a night!  Here's the show link if you're in a NPR musical discovery mood.   The other artists were Ben de la Cour, Roy Schneider and Kim Mayfield.  All amazing songwriters. 
Upcoming Shows: ticket links below  -   ?we can't wait to see you!!? 
9/15  Sing Out Loud Fest -St Augustine, Fl 
10/13  Oktober Fest - Apalachicola, Fl 
10/25  Private House Concert - Mobile, Al 
11/3. The Great Gulf Coast Arts Festival - Pensacola, FL 
11/8. Heartwood Soundstage - Gainsville, Fl. (Tickets Here) 
11/9. Private House Concert - Tampa, Fl. (reservation requests email lunazoot@gmail.com) 
11/10. Bowery Station - Apalachicola, Fl 
12/14. Monticello Opera House, Monticello, Flw/ The Currys. (Tickets Here) 
Some happenings: 
So, we were mind blown to win Alt Country Song of the Year at the 2019 Independent Music Awards for our title track, 'Redbird".  What?!!  We didn't go to NYC to go fetch it this time, but we still feel just as honored and it's made us look very fancy on our radio promos lately.   This lead to a big jump back to #2 on the Folk/Bluegrass charts for the most downloaded album in all of radio land this month.  We also landed our very first indie film song placement in a movie called Son of a Gun which you can watch here on Amazon Prime.  And last but not least, The Krickets were featured in a documentary!  The film was made to depict the differences female musicians face in a southern culture, but to us, it became the early story of our band.  All the good, bad and ugly is there.  We haven't been able to get through it yet without crying for the pain and joy of it all.   It's terrifying to share something that up close and personal, but we believe in telling the truth, sooo...   anyway, we will host a watch party on facebook for that soon so we can all experience the saga together. 
Best ways to support us at the moment: 
Add us to a playlist!   Find us here: Apple Music / Spotify / Amazon /  "Alexa, play The Krickets!" 
Host a house show!  Just reply to this email and we'll tell you all about it 
Come join our super fan club at Patreon!   For as little as a $1/m you can have access to supporter exclusive videos, special merch, early access to tickets and show info, watch our practices, etc.  We have a grand total of 5 patrons at this moment and one of them is Lauren's mom, so come help us out if you can!  This support helps with things like like website fees, festival app fees, gas, etc.   CLICK HERE to join our SUPER GROUP ? 
We can't adequately put into words how grateful we are to you for supporting our music.  WE LOVE YOU AND CAN"T WAIT TO SEE YOU!!! 
Your Krickets 
???