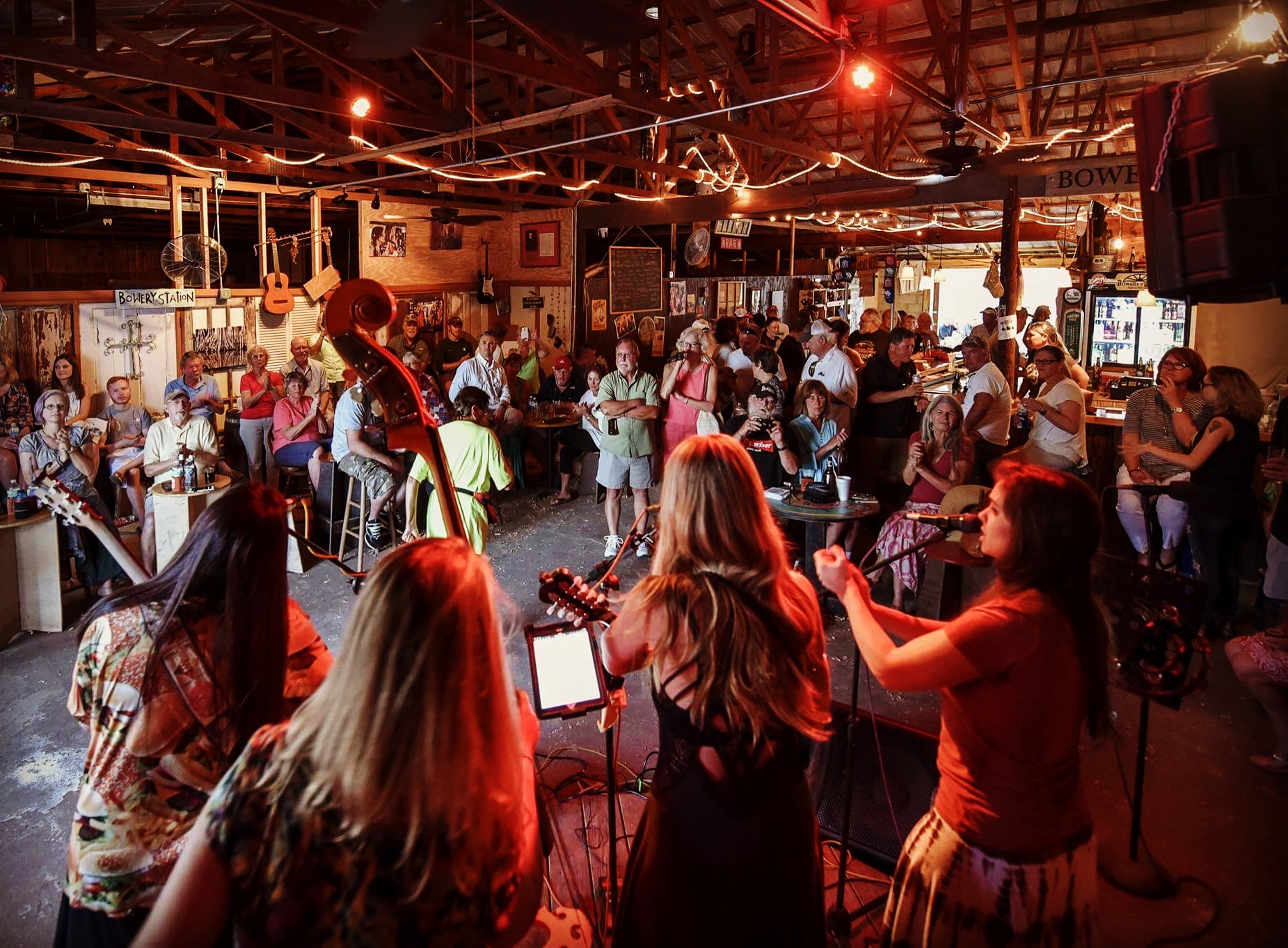 May/June 2017 
Greetings Kricketeers! 
Thanks to everyone for checking in. This is Katrina coming at you with an update of all we've been up to lately—there's a lot to cover. May was loaded with some of our greatest adventures, and I don't say that very lightly, considering we've shared the most amazing experiences together. 
We kicked off the month with a wedding! Melissa married her sweetheart, Sam Weigle, and the two lovebirds took their celebration on the road with the band as we all traveled to St. Augustine, Florida. 
Gamble Rogers Music Festival 
St. Augustine, founded in 1565 by Spaniards, is the oldest city in the nation. It was my first time to visit the town, which is located in northeastern Florida right on the Atlantic coast, and wowzers it is a beautiful area. I still can't stop thinking about it. 
We had an absolute blast at the 22nd Annual Gamble Rogers Music Festival. Everyone we met and got to hang with could not have been any cooler or kinder, and the atmosphere of the festival was amazing. All the oaks and shady trees made it the perfect spot, and the weather, oh my word it was heavenly. And might I add that the music is what dreams are made of. I can't imagine there ever being a more intimate feeling of both listening with and performing to the most intent of audiences, and The Gamble Rogers Festival was just that. I'm thankful to have been a part of it, and we can't wait to go back again next year. 
Chickfest at Bowery Station 
We followed up the Gamble Rogers folk fest with some downhome good times. The Bowery Station is the chillest-vibing, outdoorsiest indoor hang in Apalachicola, Florida, and by far the best music venue. The hospitality is topnotch, and we had a hoot at Chickfest this year. 
We got to hear some of the best music performed by the most talented lineup of all-lady musicians all day long. I got to experience probably the best game of cornhole of my life, and I don't say that lightly either, because what I didn't mention in the previous section is that I had played the second-best game of cornhole ever. (Maybe I'll start a subblog about my cornhole adventures). Chickfest was so much fun. 
Melissa announced that she is having a baby boy!!! And she also mentioned to me that she had seen the greatest shirt she'd ever seen. She said it had hamburgers on it and that she had to have it. I missed it, but I wanted to see so badly, for I knew that this had to be the best shirt ever. So I scanned every person I could see, but I could not locate a hamburger shirt for the life of me. The next thing we knew, there was a huge commotion. A half-naked man appeared, and Melissa was holding the most badass shirt I had ever seen in my life. I'll never forget it, and now I am suddenly hungry for burgers. I don't think I've ever laughed so hard during a gig or experienced as much joy as I did at Chickfest playing music with most incredible group of people I know. 
Florida Folk Festival 
To close out our string of gigs and adventures for the month, we got to live as hippies for the weekend, and we were so happy. The Florida Folk Festival is located in White Springs, Florida, at the Stephen Foster Culture Center State Park, situated on the Suwannee River. It is one of the most beautiful places I have ever seen. 
soon as we arrived to the festival, we found the River Gazebo Stage and prepared for our acoustic set. There is nothing in the world quite comparable to playing soul-folk music in the middle of the woods on the banks of the Suwannee. It's an odd but glorious feeling, nervous excitement mixed with overwhelming peace, and we hit the kind of groove during that performance that makes music everything in the world to me. 
It was my first time to camp out in a tent, and we had the friendliest and most helpful camp neighbors. It was such an adventure. I loved it. We spent most of the next day exploring the park and ended the evening with our performance on the main Amphitheater Stage. Our sweet, good friends, Amy Alderman and Ashley Fellers, joined us for the set and helped us tremendously in doing so. We were also joined by The Currys for our last two songs, and man was it a treat! 
A good time was had by all. We will never forget it and can only dream of having as much fun at next year's festival. But until then… 
COMING UP! 
Saturday, July 8th | Monticello Opera House| Monticello, Florida 
Doors 6:30 | Dinner 7 | Show 8 
The band is traveling to Monticello, Florida, for a performance at the Monticello Opera House! Belle and the Band will join us, and we are looking forward to an evening of awesome music in this most beautiful venue. We are excited to see all of our friends and hope to meet some new folks as well! Tickets: http://monticellooperahouse.org/tickets 
Sunday, July 9th | Eddie's Attic | Decatur, Georgia 
Doors 5 | Show 6 
We are absolutely thrilled to travel to Georgia for Eddie's Attic. Calling all of our friends in Atlanta and surrounding areas! Come out and help make this an unforgettable night and enjoy with us an intimate evening of music at one of the most legendary listening rooms in the country. "Live Music Matters." Tickets: http://ticketfly.com/event/143735?utm_medium=api 
Monday, July 17th | Here Comes the Sun – Summer Concert Series | Rosemary Beach, Florida 
Show 7 
The Merchants of Rosemary Beach is hosting a summer concert series, happening every Monday all summer. We are excited to be a part of the lineup! Join us for this sure-to-be fun event and enjoy the evening with us. 
Love, 
The Krickets